ED-FPC Series Frequency & Phase Converters 3kVA - 5kVA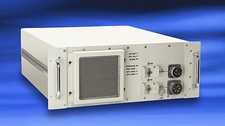 Advanced Features
Small and Lightweight Design
Double-Conversion Frequency/ Phase Conversion with Computer-Grade Output
Three-Phase Input and Single- Phase Sinewave Output Solves Phase Balancing Problems
Converts Wide Range 45- 450Hz Input Power to Fixed Frequency 50, 60 or 400Hz Output Power
Wide Input Voltage Range with +/-3% Output Voltage Regulation
Basic Rectifier Input Greatly Increases Reliability in Harsh Power Environments
Rugged & Proven MOSFET PWM Inverter Design
Provides True Sinewave, Low Distortion Computer-Grade Power
Low Output Impedance Capable of Supporting Loads with a High Inrush
Rugged Rackmount Form Factor
Unique Frequency/Phase Conversion and Power Conditioning Capabilities
Falcon's ED-FPC Series™ Frequency/ Phase Converter and Regenerative Power Source has been designed to tame harsh field power. It provides reliable computer-grade power suitable for power-sensitive equipment.
The ED converts incoming three-phase utility or generator power to DC which is regulated and fed into a robust PWM MOSFET inverter. The inverter stage then regenerates new regulated, single-phase computer-grade power of the desired frequency.
This approach removes voltage transients, sags, surges and the frequency stability problems often encountered from groundbased and aircraft generator systems, as well as third-world utility sources.
Additionally, the ED-FPC allows for the connection of single-phase equipment to a three-phase source while maintaining a balanced power draw from all three phases. This helps eliminate excessive harmonics and the nuisance tripping of circuit breakers due to phase imbalance created on the three-phase source.
Superior output power quality is assured with ±3% voltage regulation and a sinewave harmonic distortion of less than 3%. Frequency regulation is maintained at ±1%. The output specifications are held over the entire input voltage and frequency range, no load to full load.
COTS Availability and a Rugged, Deployment-Ready Design
To accommodate field, mobile and aircraft installations, the ED-FPC is designed to meet the shock and vibration requirements of RTCA/DO160, Zone A and the Munson Road Test. As requirements vary depending on the specific application, final qualification testing must be performed prior to deployment.
Light Weight and Small Size is Ideal for Aircraft, Mobile and Shelter Usage
With a weight of under 80 pounds, the ED-FPC is one-third the weight of other products. Its compact 4U rackmount form factor allows for easy integration into aircraft, ground-based mobile and shelter applications.
Aircraft - The ED-FPC converts 115/200 Vac, 400Hz three-phase aircraft "Wild Power" to computer-grade 120Vac, 60Hz, single-phase power. It provides an easy solution to powering land-based systems from fixed-wing and rotary aircraft 400Hz power.
Mobile - Originally designed for use with HMMWV three-phase generator systems, the ED-FPC is ideally suited for mobile implementation and survivability. It delivers computer-grade power for critical tactical systems on board the HMMWV. Models are also available for use with single-phase generators.
Shelters - Due to its light weight and small size, the ED-FPC is a good solution for powering sensitive computer-based equipment from the small generators typically incorporated into Single and Dual-Pallet Shelters.
The ED-FPC can also be invaluable when designed into Mobile Medical, Combat Hospital or Laboratory Shelters. Laboratory equipment, such as Mass Spectrometers, Gas Chromatographs, Genetic Analyzers, Centrifuges and Protein Synthesizers, demand a level of power quality that most generator sources cannot deliver. Additionally, the equipment is typically designed to operate from single-phase power. Due to the large amount of equipment required, generator phase balancing can also be an issue.
When used in Command and Control Shelters, the ED-FPC supplies computer-grade power to computers, network, satellite equipment and tactical systems. To discuss you specific application, please contact Falcon Military Sales.