MILCOTS UPS: Meeting Mil-STD 810 for Shock and Vibration
Another problem that may be encountered is the UPS's ability to withstand shock and vibration. The Department of Defense has issued MIL-STD 810 that details the manufacturing and performance guidelines specifying allowable parts and environmental condition ranges in which mobile equipment and computers must operate to meet compliance. In addition, the Army requires mobile-based equipment to pass the Munson Road Test. A Mil-COTS UPS sold to the military will have been tested to various levels of these standards providing an added level of assurance as to their suitability for use in harsh heavy industrial environments.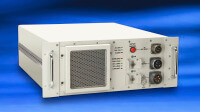 The operational temperature specifications for the majority of UPS products on the market today are stated as 0°C to 40°C. These UPS products have been designed for use in an indoor, temperature-controlled environment. Furthermore, they have undergone safety agency testing over the manufacturer's stated temperature range and have received an ETL or Underwriters Laboratories (UL) listing for use over the stated range. As part of the safety agency product evaluation, the temperature ratings of key electronic components, displays, plastics, circuit board materials, insulating materials and batteries are also verified to remain within their temperature specifications, while the UPS is operating over the entire manufacturer-specified temperature range.
Extreme Temperature Environments
As military missions are deployed throughout the world in some of the most severe operating environments—installing a commercial off-the-shelf UPS in this type of location might not be a wise choice. A rugged UPS with a high and low temperature rating of -30°C to +60°C is more suitable for operation in these environments. These units are built with high-temperature components and designed to operate specifically in harsh environments. However, they must also be paired with robust batteries that have a wide operating temperature range.
To better meet military requirements, a few UPS manufacturers offer military COTS power conversion and UPS products that are specifically designed to be cost-effective, yet meet the demanding requirements of military applications. These rugged units have been designed and constructed using a no-frills approach – eliminating the large added costs associated with a custom military specification UPS, frequency or phase converters.
Conclusion
In conclusion, MILCOTS on-line double-conversion UPSs are the best investment for long-term reliability and productivity providing the benefits of power conditioning and battery backup protection for difficult military applications. They will give years of service in environments where computer-grade UPS products will fail within a few months or not operate at all.