Falcon Electric Wins Plant Engineering's 2019 Product of the Year Award
for its Extreme Temperature Industrial UPS
IRWINDALE, Calif. – January 29, 2020 – Falcon Electric, Inc., a leader in industrial and military COTS UPS systems, announces that Plant Engineering has presented its 2019 Product of the Year Award to Falcon for its state-of-the-art SSG-RP-1H Extreme Temperature UPS in the energy management category. The magazine's subscribers voted and selected Falcon's UPS due to its many advanced features for protecting plant equipment.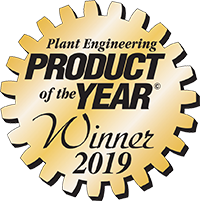 The Product of the Year program is the premier award for new products in the manufacturing and non-manufacturing industries. Plant Engineering's readers have selected the outstanding new products that help them do their jobs smarter, safer, more efficiently and productively.
Falcon's new SSG-RP-1H is an extreme-temperature online UPS that operates reliably from -40°C to 70°C and is complete with ruggedized features for applications in harsh environments that are subjected to heat, dirt, dust, moisture, etc. The 800VA to 2kVA rackmount models also include environmental protection features and include extreme-temperature batteries for protecting equipment against power disturbances for several hours. The SSG-RP-1H UPS includes many features including:
Extreme temperature range – UL recognized to operate reliably at -40°C to 70°C
Standard environmental protection – Conformal coating of boards; powder-coated chassis; encapsulated fans
Extreme-temperature batteries – Operational range of -40°C to 80°C
Extended battery runtimes – Provides minutes to many hours of battery runtime
Advanced communications – Remote UPS management; relay cards
Ready-to-install outdoor enclosures – All sizes and mounting options available for applications in harsh environments
Long-life, online UPS – Rugged, reliable industrial design with a long service life
For more information on Falcon's SSG Industrial and Outdoor UPS family, contact Falcon at 800-842-6940 or email sales@falconups.com. Also, visit Falcon on Twitter at @FalconUPS.
 About Falcon Electric
Headquartered in Irwindale, Calif., Falcon Electric, Inc. is a leading manufacturer of award-winning online UPSs, frequency converters and ac voltage regulators. Founded over 30 years ago, Falcon is a recognized authority in industrial, wide-temperature and military COTS UPS systems. Falcon is dedicated to offering the latest technology, engineering excellence and technical support to ensure complete customer satisfaction.  For more information about Falcon Electric and its innovative products, visit www.FalconUPS.com.
Company Contact:
Falcon Electric, Inc.
Media Relations
800-842-6940
mediarelations@falconups.com
Agency Contact:
PJ Jennings
Jennings & Associates
760-431-7466
pj@jandacommunications.com