Falcon Electric Announces SL LiFePO4 UPS Battery Backup Solution
Rack/Tower Models Feature Safe, Lithium Iron Phosphate Batteries to Provide Longer Runtimes
for IT, Network, Communication Applications
IRWINDALE, Calif. – March 16, 2021 – Falcon Electric, Inc., a leading manufacturer of award-winning, online Uninterruptible Power Supplies (UPSs), introduces its lightweight SL LiFePO4 UPS family with lithium iron phosphate (LiFePO4) batteries that feature three to four times longer runtimes over lead-acid based UPSs.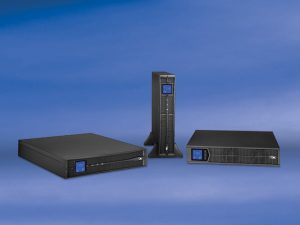 Falcon's 1 to 3kVA SL UPS features lithium iron phosphate batteries that provide maximum reliability and service life. Unlike other lithium-ion battery types, Falcon's LiFePO4 batteries are safe as the lithium iron phosphate cathode material is a very stable chemistry that is not subject to thermal runaway, making them virtually incombustible even in high-temperature environments. The SL LiFePO4 batteries also feature a 10-year service life, significantly reducing frequent battery replacements and maintenance costs.
Features and benefits of the SL LiFePO4 UPS family:
Lithium iron phosphate batteries – Provide maximum safety and reliability
3 to 4 times longer battery runtimes – Without the added size and weight of lead-acid batteries
Lightweight; small footprint
Convertible rack/tower design that easily switches to a free-standing tower
LiFePO4 batteries are eco-friendly and safe – No caustic materials or dangerous odors
Online UPS design – Ensures the highest reliability
Advanced communications – Remote UPS management
To learn more, Falcon has developed a quick guide on lithium-ion battery types and  why LiFePO4 batteries are best suited for UPS systems.
The single-phase SL LiFePO4 UPS rack/tower models are available now. For more information, contact Falcon at 800-842-6940 or email sales@falconups.com. Also, visit Falcon on Twitter at @FalconUPS.
Falcon Electric
Headquartered in Irwindale, Calif., Falcon Electric, Inc. is a leading manufacturer of award-winning online UPSs, frequency converters and ac voltage regulators. Founded over 30 years ago, Falcon is a recognized authority in online, industrial, wide-temperature and military COTS UPS solutions. Falcon solves customers' power needs by providing the latest technology, engineering excellence and technical support to ensure complete customer satisfaction. For more information about Falcon Electric and its innovative products, visit www.FalconUPS.com.
Company Contact:
Falcon Electric, Inc.
Media Relations
800-842-6940
mediarelations@falconups.com