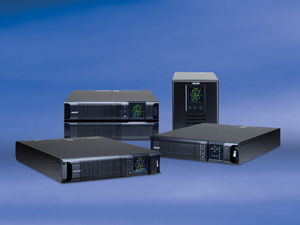 View rackmount datasheet – 1.5 to 3kVA
View rackmount with LiFePO4 Battery datasheet – 1.5 to 3kVA
View tower datasheet – 1.5 to 3kVA

View rackmount datasheet – 6kVA

For hardwired models, contact factory
SSG Industrial UPS Advantages:
-20°C to 55°C temperature range
The SSG UPS is agency-certified (UL, cUL, CE) to operate reliably in demanding environments. All 120V rackmount models and SSG 6kVA units are also UL 508 listed.
Long-life UPS: true on-line, industrial
Tested and designed with robust components and materials, the SSG assures reliable operation and a long service life in stressful environments. It is a true on-line industrial UPS.
12-year rated batteries cut service costs
The long-life batteries cut frequent battery replacements and maintenance costs.They have a 12-year life at 25°C and 4 years at 50°C.
Extended battery banks
The battery banks are easily expandable to provide minutes to hours of extra battery runtime.
Available options / Advanced communications
NEMA 3R-rated enclosures, environmental protection, remote UPS management, environment sensors, relay cards – and much more.
Falcon – recognized for quality and reliability
Falcon Electric is a recognized authority in industrial UPS solutions. Our technical expertise assures you find the right solution – the first time.