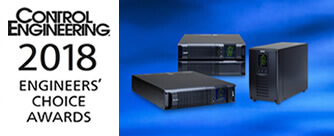 View rack/tower datasheet – 1.5 to 3kVA
View tower datasheet – 1.5 to 3kVA

View rackmount datasheet – 6kVA

For hardwired models, contact factory
Request info. about lead times & customizations
Features and Benefits
Certified UPS: UL 1778, UL 508, cUL and CE approved to operate from -20°C to 55°C (-4°F to 131°F)
-Avoids product safety and liability risks
On-line industrial UPS design
-Prevents costly failures ensuring the highest level of uptime
Tested and designed with robust components and plastics
-Assures reliable operation in stressful environments
Hot-swap, 12-year rated batteries
-Reduces battery replacements and costs
External Battery Banks & 40 Ah Battery Bank
-Hours of battery backup time
Lithium Iron Phosphate (LIFEPO4) battery option
– Longer service life & lightweight
Unique optional SNMP Agent
-Unlimited shutdown client license
Superior Protection for a Wide Range of Applications
Harsh industrial environments demand an on-line industrial UPS. Falcon's on-line industrial SSG® UPS is specifically designed with high-grade components, plastics and batteries to provide superior protection in stressful environments. The SSG delivers continuous, clean power required by sensitive microprocessorbased equipment, SCADA, PLCs, VFDs and networks.
Industrial Wide-temperature UPS Operates from -20°C to 55°C (-4
°F to 131°F)
The SSG is one of the only UL 1778, UL 508, cUL and CE approved UPSs to operate from -20°C to 55°C, far beyond the limited 0°C to 40°C temperature range of office grade UPSs. In addition, unlike off-line and line-interactive designs, Falcon's on-line UPS acts as an electronic firewall between the incoming "dirty" power source and your sensitive equipment. Its double-conversion, on-line design regenerates continuous, clean, tightly regulated power regardless of the incoming power anomalies.
12-Year Rated Batteries Reduce Servicing
Batteries are the life blood of all UPSs. All SSG models are equipped with 12-year rated batteries when installed in an ambient 25°C (77°F) environment and offer a 4-year battery life in a 50°C (122°F) location. In contrast, most UPSs typically need batteries replaced every 1 to 2 years in high temperature environments. The SSG's batteries reduce costly battery replacements, servicing and downtime.
When battery replacement is required, simply slide out the user-replaceable, hot-swappable battery pack and replace with a new one. Replacement is accomplished while the UPS continues to power the critical load and without having to remove the UPS from the equipment rack.
Optional Frequency Converter
The SSG is factory-configurable for use as a 50Hz or 60Hz frequency converter, making it the ideal choice for worldwide power applications.
RS-232, USB & SNMP/HTTP UPS Management
With the supplied UPSilon® software, all models support unattended shutdown, UPS management, data logging and a power diagnostic tool. The software supports Windows® and other major platforms. For UNIX users, UPSilon is available as an option. Falcon also offers an optional SNMP/HTTP agent board.
Remote Emergency Power Off (REPO)
The SSG is equipped with an NFPA-70, NEC 645-11 compliant REPO interface assuring code compliant integration. If REPO is not required, remote output receptacle control is a factory configurable option. This allows outlets to be remotely controlled using a wired connection with a remote switch.