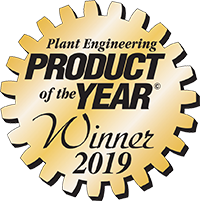 Plant Engineering judges and magazine subscribers have chosen our SSG-RP-1H Extreme Temperature UPS as Product of the Year for 2019 in the competition's Energy Management category.
Falcon's ruggedized design and features allow the 800VA to 2kVA rackmount models to reliably operate from -40°C to 70°C, thereby protecting equipment located in harsh environments subjected to heat, dirt, dust, moisture, etc.
The SSG-RP-1H features:
Extreme temperature range – UL recognized to operate reliably at -40°C to 70°C
Standard environmental protection – Conformal coating of boards; powder-coated chassis; encapsulated fans
Extreme-temperature batteries – Operational range of -40°C to 80°C
Extended battery runtimes – Provides minutes to many hours of battery runtime
Advanced communications – Remote UPS management; relay cards
Ready-to-install outdoor enclosures – All sizes and mounting options available for applications in harsh environments
Long-life, online UPS – Rugged, reliable industrial design with a long service life
For more information on our SSG Industrial and Outdoor UPS family, contact us at
800-842-6940, email sales@falconups.com or fill out our product/application request form Also, visit Falcon on Twitter at @FalconUPS.