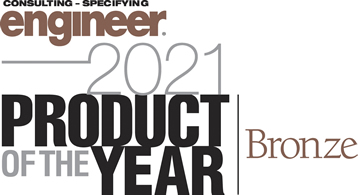 Falcon's SL LiFePO4 UPS has won the 2021 Bronze Award in Consulting-Specifying Engineer's (CSE) Product of the Year competition.
CSE is a highly respected publication written and read by engineers and consultants.  The 1 to 3kVA rack/tower SL LiFePO4 UPS family was selected for its advanced, yet very safe and reliable features.
Key Features & Benefits:
Lithium iron phosphate batteries – Unlike other lithium-ion chemistries, they provide maximum safety and reliability
3 to 4 times longer battery runtimes – Without the added size and weight of lead-acid batteries
10-year battery life – Significantly reduces frequent battery replacements and service costs
LiFePO4 batteries are eco-friendly and safe – No caustic materials or dangerous odors
Online UPS design – Ensures the highest reliability
For specifications and product summary, see datasheet.
To discuss your application with our expert technical team or for more information, call us at 800-842-6940; email: sales@falconups.com or fill out Request Quote/Info Form.