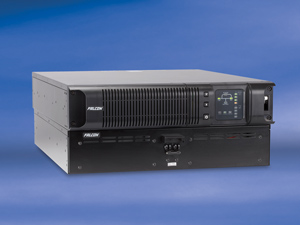 New Extreme Temperature UPS Models, -40°C to 70°C for SSG-RP Industrial UPS
Falcon Electric's SSG-RP Industrial UPS family (1kVA to 3kVA) is ruggedly designed to operate from -30°C to 65°C. The new rackmount SSG-RP-1H is an extreme temperature UPS with ruggedized features specifically designed for applications in harsh environments that are subjected to heat, dirt, dust, moisture, etc.
Key Advantages:
Extreme temperature range – Tolerance of temperatures from -40°C to 70°C
Standard environmental protection – Conformal coating of boards; powder-coated chassis; encapsulated fans
Extreme-temperature batteries – Provides minutes to many hours of battery runtime
Here is a quick overview of the award-winning, field-proven SSG-RP Industrial UPS family:
-30°C to 65°C – Agency certified UL 1778, UL 508, CuL, CE
Extended battery runtimes for minutes to many hours
Ready-to-install outdoor enclosures – All sizes and mounting options available for harsh environments
Long-life, online UPS – Rugged, reliable industrial design with a long service life
Options include remote UPS management, environment sensors, relay cards, environmental protection
To learn about Falcon's complete family of online industrial UPSs click here.
Customer Service You Can Depend On – Dedicated Technical Team Available
When you contact Falcon, our technical support team will assist you in finding the best UPS solution for your specific application.
You can contact us in 3 easy ways:
Phone: 800-842-6940
Email: sales@falconups.com
Product Request Form: https://www.falconups.com/product-request.htm