We are pleased to announce that we have doubled the warranty for our SSG Industrial Wide-temperature Uninterruptible Power Supply (UPS) family from two to four years.
The high reliability and customer satisfaction of the SSG Industrial UPSs with lead-acid batteries led to the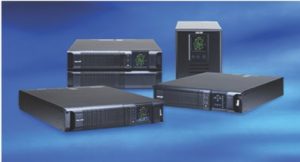 extension to a four-year warranty effectively immediately within the 50 states and Canada. Falcon's wide-temperature 1.5 to 6kVA rackmount, tower, and outdoor UPS models set a higher standard in quality and dependability not found in other power protection solutions.
Falcon's SSG and SSG-RP wide-temperature models are specifically designed to operate reliably in industrial environments. All materials, batteries, and electronics are built with high-grade components that are rated to operate in demanding temperature environments. The SSG units are agency-certified (UL, cUL and CE) to operate from -20°C to 55°C (SSG) and -30°C to 65°C (SSG-RP). All 120V models are also UL 508 listed.
These industrial UPS systems are also capable of extending runtime for hours – a crucial feature for many critical applications.
In addition, the SSG and SSG-RP units significantly reduce service costs and frequent battery replacements. The robust components and long battery life (10 to 12 years) are specifically designed for the rigors of industrial environments. These advanced UPS systems also offer:
Ready-to-install NEMA 3R rated outdoor enclosures
Extended battery banks for hours of backup (including 40Ah battery)
Environmental sensors and protection
Remote UPS management
The SSG UPS models are designed to protect mission-critical systems including oil and gas, IoT/IIoT, process control, transportation, security, military and other power-sensitive systems against the damaging effects of unstable electrical power and blackouts.
For more information on Falcon's SSG Industrial Wide-temperature UPS family, contact Falcon at 800-842-6940 or email sales@falconups.com. Also, visit Falcon on Twitter at @FalconUPS.