During a recent conversation with an engineer from one of Falcon Electric's sales partners, Falcon team members learned what inspired the engineer about our industrial UPS solutions and why his company chose to sell Falcon to its customers.
He knew that Falcon's SSG Industrial UPSs are very reliable and built with high-grade components. He was impressed with the 4-year battery life at 50°C! These features are critical for their industrial customers as the SSG UPS will reduce costly battery replacements and customers no longer have to worry about premature failures due to heat.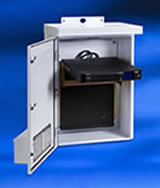 Falcon's SSG Industrial UPS models (1kVA to 6kVA) are UL listed for high temperatures up to 55°C (range is -20°C to 55°C). Here are the key advantages (from our SSG Industrial Wide-temperature 1.5 to 3kVA datasheet):
-20°C to 55°C temperature range
The SSG UPS is agency-certified (UL, cUL, CE) to operate reliably in demanding environments. All 120V models are also UL 508 listed.
Long-life UPS: true online, industrial
Tested and designed with robust components and materials, the SSG assures reliable operation and a long service life in stressful environments. It is a true online industrial UPS.
12-year rated batteries cut service costs
The long-life batteries cut frequent battery replacements and maintenance costs. They have a 12-year life at 25°C and 4 years at 50°C.
The battery banks are easily expandable to provide minutes to hours of extra battery runtime.
Available options / Advanced communications
NEMA 3R-rated enclosures, environmental protection, remote UPS management, environment sensors, relay cards – and much more.
For all SSG datasheets and specifications, go to https://www.falconups.com/industrial_ups.htm
For assistance with an application or to answer questions, our dedicated technical support team is available by email at: info@FalconUPS.com or, fill out our (confidential) product request form: https://www.falconups.com/product-request.htm