Falcon's UPS = A Positive Difference
In the U.S., the fight against the Coronavirus began earlier this year. It has taken longer than expected to stop the pandemic. There is a lot of negative news and this blog is focused on the positive, concrete difference Falcon's award-winning reliable UPS and frequency/phase converters are making in critical applications.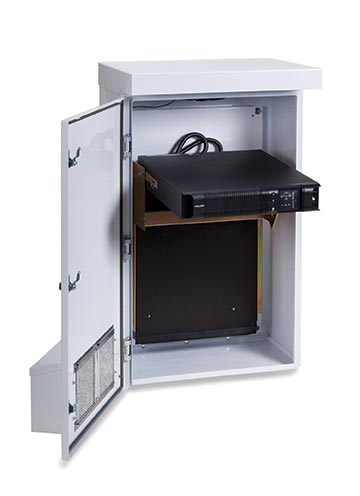 Reliable Power = Reliable Equipment Operation
Equipment can only operate as reliably as the power it receives. Power outages are not the only problem. Other power problems, like surges, can harm a system's components and operation.
Companies worldwide trust the Falcon brand for its field-proven reliability.
Where are Falcon UPSs Protecting Critical Systems Now?
Our SSG, SSG-RP, FN and SC UPS products are protecting crucial lab equipment, like a GC/MS machine that is used to process important tests. Unstable power can alter accurate testing. Our UPS systems ensure correct test results when power is interrupted.
The U.S. military has trusted and installed Falcon's ED UPS and frequency/phase converters for over 30 years. This includes reliable power backup to the U.S. Air Force and U.S. Navy where critical operations are supporting the battle against COVID-19.
Falcon's SSG and SSG-RP Industrial and Outdoor UPS are installed in Intelligent Traffic Systems (ITS) across our nation. In many cases, a different UPS brand was initially used that failed. Falcon was then selected and has reliably worked without any problems. FastTrak L.A., Chesapeake Bay Bridge and the Verrazano-Narrows Bridge are all protected by Falcon's UPS.
Falcon's Family of Products Include:
SSG and SSG-RP Industrial & Outdoor UPS Systems (-20º to 55ºC; -30º to 65ºC and -40º to 70ºC)
ED UPS and Frequency/Phase Converters (Rugged; MilCOTS)
FN and SC Online UPS (0º to 40ºC)
Questions or Quote Request?
We have a dedicated technical team that works with you to recommend the right solution – the first time. You can reach us at: 800-842-6940; sales@falconups.com; Request Quote/Info Form.