As the availability of clean, abundant water continues to be a concern ­– especially in the Southwest – protecting the networked systems and devices that clean and distribute this precious resource is vital. Power dependent equipment such as Supervisory Control and Data Acquisition (SCADA) networks control the entire water-treatment process and require clean, uninterrupted electrical power.  Like SCADA networks, programmable logic controllers (PLCs), remote terminal units (RTUs), sensors, and variable speed drives are also sensitive to any kind of power disruption.
Environmental Science & Engineering magazine discusses the importance of deploying an industrial UPS to keep water facilities operating reliably
Uninterruptible Power Supplies (UPSs) are commonly deployed in a wastewater facility to protect these critical process systems against power interruptions.  However, only an industrial-grade wide-temperature UPS is specifically designed with rugged internal components to reliably operate in harsh environments.  Wastewater equipment is sited in both indoor and outdoor locations subject to a host of environmental challenges including wide temperature extremes, humidity and moisture. Only an industrial wide-temperature UPS can provide the power protection needed under these extreme environmental conditions.
Not All UPSs are Equal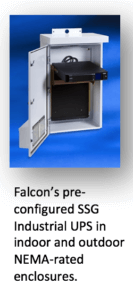 Most UPSs on the market today are designed for temperature-controlled office environments and are not able to reliably operate in harsh industrial environments. Falcon leads the industry with its industrial UPSs that are designed from the ground up with high-temperature components to withstand extreme conditions. Falcon's SSG Industrial UPS family has an unprecedented operational temperature range of up to -30°C to 65°C (-22°F to 149°F). Moreover, the SSG's 10-and 12-year rated batteries reduce frequent and costly battery replacements and downtime.
In addition, the SSG units are available in ready-to-install NEMA 3R and 4-rated enclosures. Only an industrial wide-temperature UPS can assure safe and reliable operations at a wastewater facility – saving maintenance costs and potential lost revenue.