Outdoor NEMA 3R rated enclosure applications paired with our high-temperature rated industrial UPS provides reliable power to critical devices when utility power problems occur.  Most UPSs cannot operate at temperatures above 40°C or below 0°C since they are office-grade products designed to be used in a temperature-regulated office environment.  Falcon's industrial UPSs are UL listed to operate reliably from -20°C to 55°C (SSG) and -30°C to 65°C (SSG-RP).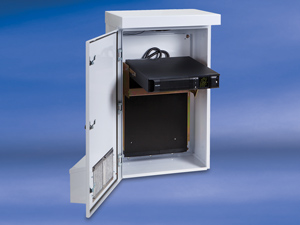 Operating in an outdoor environment can present several conditions that would damage most UPSs.  Severe changes in temperature and humidity can cause undesirable conditions for any electronic device including the UPS.  This is why Falcon's SSG and SSG-RP Industrial UPS products are offered with conformal coating for all major electronics and powder coating for the UPS chassis.
Conformal Coating:
Conformal coating provides an important layer of protection for the critical electronic components inside the UPS.  The coating provides protection from chemicals, salt spray and moisture that can be present in harsh environments.  We highly recommend the conformal coating for all NEMA 3R outdoor enclosures paired with our SSG and SSG-RP UPS products.
Powder Coating:
The second layer of protection involves the UPS chassis.  The steel painted chassis is great for indoor environments; however, if the UPS is placed in an outdoor NEMA 3R enclosure, the chassis is susceptible to moisture build-up from temperature changes.  This can lead to rust and corrosion affecting the durability of the chassis.  Falcon offers powder coated chassis to provide protection against rust caused by outdoor air and moisture.
Combining both conformal coating for electronics and powder coating for the chassis offers the best protection against environmental factors of an outdoor environment.
For assistance with an application, contact our dedicated technical support team who will work with you to determine the best solution for your requirements.
Tel: 800-842-6940, email: sales@falconups.com or fill out our Request UPS Quote / Info Form.